Marks & Important Locations
When we talk about our rowing on the Bay we'll often refer to familiar places and points by name. It is not strictly vital to know the names of the places you row past, but it is a big help.
We'll review some of the most important landmarks, channel marks and other points of interest here. This interactive map (below) has been created from the collected knowledge of Open Water Rowing members & coaches.
This large restaurant marks the entrance to the Sausalito Channel and is easily visible from most of Richardson Bay. The glass walled building can appear black from the water, but this, and it's size, makes it easy to pick-out against the mass of Sausalito buildings. Even on the return leg from Angel Island, you can spot the Spinnaker and use it to guide you back.
This rock really is vaguely cone-shaped, about 500 meters off the shore of Belvedere. The rock is topped by a prominent marker and a perpetual crowd of cormorants. Cone Rock is easily visible and well-placed as a turning point for rowers.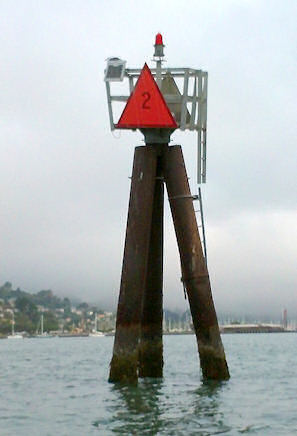 This tall group of three pilings is technically the outer marker of the Sausalito Channel, and also the point where the shallow bottom of Richardson Bay drops steeply into the central section of SF Bay. The mark is topped with an orange triangle symbol (with the number 2). Tidal currents beyond this point are stronger, so this is a good place for novices to turn back.
Strawberry is the prominent point in the north end of Richardson, lined with homes. Some of the most dependable calm water is on either side of the point, and for many rowers this area is their regular haunt. Watch for rocks right close to shore.
Raccoon Strait – North Side of Angel Island
6. Belvedere Point #3 Marker (green)
Belvedere Island ends in the south in a sharp and steep bluff. Rowers entering or exiting Raccoon Strait will round this point, and the vigorous tidal flow though the Strait must do the same, kicking-up some challenging rips and rough-water. There is a rock about 20 meters off the point that is just barely visible above high-tide, but easily seen at other times. Round outside of this rock. About 100 meters beyond the point is a green mark numbered "3". You can pass inside this mark or outside as you prefer, just don't run into it.
The tidal rip here can be strong but small in extent and close to safe water in Richardson, so this is a good place for new rough-water certified rowers to practice, especially on an ebb tide, which will carry you back towards home.
9. Ayala Cove on Angel Island
This beautiful cove, the "entrance" to the Angel Island State Park, is a great rowing destination, or a rest-stop on the way around the island. The cove is calm and protected from currents, and popular with boaters and harbor seals too. Watch out for the ferries bringing visitors to the park.
Angel Island – Other prominent points
One nice feature of Angel Island is a series of somewhat regularly spaced "points" about one kilometer apart, separated by pleasant bays that give the rower marks to gauge your pace (split-times) and break up the long row.
Rowers will most frequently refer to four places, beyond those mentioned above.
13. Point Blunt
The southeast corner of Angel Island is a long point that ends in a group of tall rocks shaped much like hay-stacks, and a series of lower and broader rocks. Off the point is a green mark for the shipping traffic. Around that green buoy the tides create a big, broad area of particularly nasty conditions, especially when a wind is present, and it often is.
Rowers (and kayakers) have discovered that the point can be rounded in safety and relative comfort by slipping inside of the outermost rock. There are some "tricks" to this passage, so we've created a special guide to rounding Pt. Blunt.
There is also a wind gauge on Pt. Blunt that is reported on the web… very helpful!
Western Shoreline and the Golden Gate